Cake Flavours at Jen's House of Cakes
All our cakes are lovingly handmade in-house. Baked fresh to order, with the finest ingredients, to create a cake that tastes as good as it looks. Free range eggs are always used and you can be assured that your cake will be baked as close to your event as possible to ensure maximum freshness, except rich fruit cakes which are baked 2-3 months in advance to allow sufficient time to mature.
Cakes are available in a wide variety of flavours: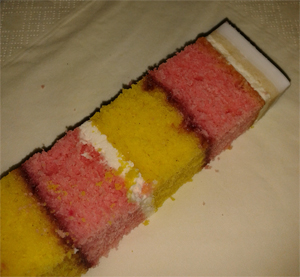 Classic

Vanilla - light vanilla sponge, flecked with vanilla seeds and filled with jam & buttercream
Chocolate - light chocolate sponge filled with chocolate buttercream
Salted Caramel - flavoured sponge cake with a matching buttercream
Lemon - made with real lemon zest and filled with lemon curd buttercream
Orange - made with real orange zest and filled with an orange buttercream
Luxury

Baileys -a delicious grown up twist on a traditional sponge (my personal favourite!) Baileys flavoured sponge, drizzled with Baileys and filled with Baileys buttercream
Almond - made with ground almonds and filled with an Amaretto or Almond flavoured buttercream
Chocolate Orange - moist chocolate cake flavoured with real orange zest and filled with a chocolate orange buttercream
Chocolate Mint - chocolate cake flavoured with mint extract and filled with a chocolate mint buttercream
Red Velvet Cake - A twist on the usual chocolate cake filled with a vanilla buttercream
Decadent Chocolate - rich chocolate sponge filled with a smooth decadent chocolate ganache buttercream
Coconut - a lovely moist coconut sponge filled with coconut buttercream
Indulgent

Chocolate Mud Cake - a dense, rich chocolate cake filled with a delicious chocolate ganache
Carrot Cake - a dense and moist carrot cake packed full of raisins and tangy citrus zests, filled with a light zesty orange buttercream
Rich Fruit Cake - full of plump, juicy fruits and cherries that have been generously soaked in Brandy. Covered in marzipan and sugarpaste. (This can be made with or without the following ingredients: cherries, nuts and mixed peel - please mention when ordering).
Battenburg - alternate layers of light pink and yellow vanilla sponge, covered in marzipan and sugarpaste
Bespoke Flavours

If nothing on this list tempts you or you have something else in mind we are happy to create variations from our collection or create an entirely new and unique flavour for your special occasion. For example - turning our Chocolate Cake into a Black Forest Cake by adding cherries and jam.
Cake Fillings & Coverings
Cakes can be filled with a wide variety of fillings, from simple jam and buttercream to rich chocolate ganache. Specific customer requests can be used, subject to availability and Health and Safety Regulations. (Please Note: I prefer not to use fresh cream due to storage issues relating to Health & Safety).
Cakes can also be covered in a wide variety of coatings; sugarpaste, chocolate, chocolate ganache or buttercream to name the most popular.
Fruit cakes are usually covered with marzipan and sugarpaste to create a lovely smooth finish and help to keep the cake fresher for longer.
Cupcake Flavours
Let your imagination run wild – popular choices include
Vanilla Cupcakes with Vanilla Buttercream (with vanilla seeds)
Chocolate Cupcakes with Choc Buttercream
Bailey's Cupcakes with Bailey's Buttercream
Zesty Orange Cupcakes with Orange Buttercream
Zesty Lemon cupcakes with Lemoncurd Buttercream
Chocolate Orange Cupcakes with Choc Orange Buttercream
However, if you would like a flavour of cake or icing that isn't listed here please Email Jen as other combinations can happily be discussed.
* Important Allergy Note
Unfortunately, we do not currently offer a "Free From" range. However, for details of allergens please ask.